Barbara Cook Profile
stolen from NYT:
April 17, 2005



Alone, Again


By ALEX WITCHEL



It was, oh, around 4:30 in the afternoon, and maybe the third time that Barbara Cook and Michael Feinstein were taking it from the top, slogging through a duet of ''Cheek to Cheek'' for their performance that night. A few musicians were in the room with them, while a few took a break outside.

''How does a chick singer change a light bulb?'' one asked. ''She gets up on a table and has the rest of the world revolve around her.''

Laughter all around.

In an era when any 20-year-old with a sense of entitlement and an overachieving sound engineer can call herself a diva, the joke certainly has currency. But when it comes to this particular chick singer, well, it's not even close. A pro from the old school who puts the song first (''She's not interested half as much in Barbara Cook as she is in Harold Arlen,'' Stephen Sondheim says), she is now, at 77, at the top of her game. Cook's voice is remarkably unchanged from 1958, when she won the Tony Award for playing Marian the Librarian in ''The Music Man.'' A few high notes aside, it is, eerily, as rich and clear as ever. As Marvin Hamlisch says, ''With Barbara, you close your eyes, and she's back to being the ingenue.''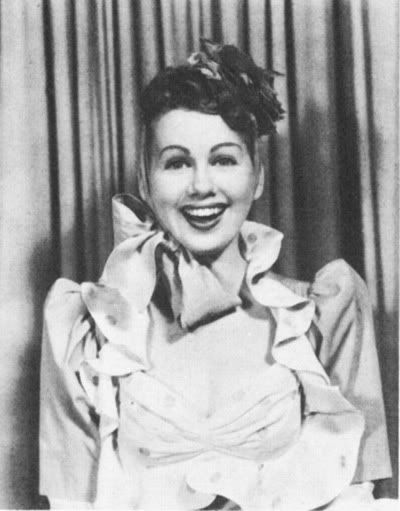 Most Promising New Talent of the Season
Over the last 50 years or so, the ingenue has grown into an artist who can play a 90-seat club like the Cafe Carlyle in New York, where she is now through May 27, as effortlessly as the 17,000-seat Hollywood Bowl, where she will perform with Deborah Voigt and Dianne Reeves in July. She has recorded 36 albums (her latest, ''Count Your Blessings,'' was nominated for a Best Traditional Pop Vocal Album Grammy Award; she lost to Rod Stewart). She sings regularly with the mezzo-soprano Marilyn Horne and has performed for the queen of England, most recently to open a new opera house in Cardiff. Next January, the Metropolitan Opera will

Cook has also become one of the premier interpreters of Sondheim's work, known for its technical intricacies, in spite of the fact that she has never learned to read music. It is her perfect pitch for a song's emotional resonance that sets her apart, and in the master classes she teaches around the world, most often at the Juilliard School, she spends much of her time waving off the students' vocal perfection to get them to harvest the pain and joy beneath the notes. ''What is this song about?'' she will ask, to an often blank stare. In one class, caught on tape for ''60 Minutes,'' a young woman with a lovely voice repeatedly tries ''Can't Help Lovin' Dat Man,'' from ''Showboat.'' ''Honest to God,'' Cook finally tells her, ''you do not have the life experience to really, really sing this song.''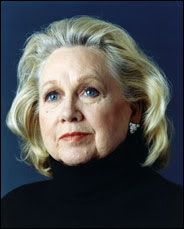 Babs Today
Cook can sing them all. If she had a business card, it might read: DRAMATIC THEATER SINGER. SPECIALTY: HEARTBREAK. In a life that has been marked by alcoholism, depression, divorce and obesity, among other sorrows, she is now coping with one of her biggest losses. Wally Harper, her musical director and accompanist, who resuscitated her career in the mid-70's, died in October. For the previous three decades, they were one of the most recognizable duos in American theater: Harper, brittle and elegant at the piano, his expression vaguely surprised, vaguely amused, as if Noel Coward had just told him a joke, and Cook, feet planted square on the stage beside him, the Mother Earth of the American songbook. The combination could be thrilling as midnight or consoling as dawn. When Cook invariably laid down her mike to sing her encore, enfolding the audience in her own brand of lullaby, no one listened more intently than Harper. It was he who helped get Cook working again after her drinking kept her unemployed for years. So it was particularly difficult for Cook that when she stopped for good in 1977, Harper did not, and his death at 63 from heart failure, she says, may have been precipitated by alcohol abuse.

Although their relationship was never romantic, it was certainly a professional marriage, and she has begun the arduous process of finding other collaborators. Pianists are hard enough, but the more crucial role of musical director, the person to choose her material and arrange it, as Harper did, is even harder to fill.

On a January afternoon, Cook arrived at the Van Wezel Performing Arts Hall in Sarasota, Fla., not only to sing but also to accept an award from Narsad, the National Alliance for Research on Schizophrenia and Depression, for speaking out about her experience with depression. She hadn't written a speech and wasn't sure what she was going to say, but for her, that was the least of it. Jeff Harris, a pianist who has worked regularly with Maureen McGovern, among others, was accompanying her for the first time, and Peter Donovan, her usual bass player, was there, too. There was just no bass available for him to play until 6:00.
Feinstein, who was the headliner for the night (Cook would do a set of her own before they went cheek to cheek) was suffering from tracheitis, and his music was being scored down as he sipped tea and croaked quietly along with Cook, who burst with energy as he wilted, desperate for bed.

Once they finished, Cook left the rehearsal room and headed to the stage for her sound check with Jerry Kravat, her longtime manager, in tow. Kravat, who likes to tell stories from his days as the entertainment director of Monaco -- the principality -- calmly watched her anxiety escalate as curtain time neared and Harris started playing the piano.

Kravat hadn't heard the musician's joke earlier, but as far as this chick singer goes, he knew that this was as crazy as it got, and he'd seen it all before. She asked repeatedly for a mike stand, and when a stagehand brought one, she looked surprised.
''I don't need a mike stand after all, I'm out of my mind,'' she said. The stagehand, entirely unsurprised, took it away. She called over the stage manager: ''I need to set the lights to a concert dark. I don't like singing to a black expanse, that's not people.'' He nodded. But checking the sound onstage wasn't enough; she took her mike out into the audience to check it there too.
Would she have been calmer if Harper had been with her? Kravat shook his head. ''No, it's always the same,'' he said. ''But at least today, she hasn't cried about Wally. That's something.''
When Cook was next seen, onstage for her set, she was back to herself, more or less. She wasn't quite at ease with Harris, and the numbers sometimes felt rushed. But the audience loved her and Feinstein, who had recovered on schedule. If anyone dreaded the evening's momentum being stalled by a downbeat speech when the award was presented, they were happily disappointed.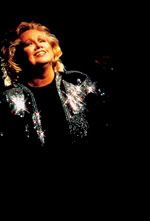 Glitter and be Gay-Ms Cook's signature song
Cook looked at the chunk of crystal in her hands and her grin started slow and grew wide. ''Well, I'm just sorry my former husband isn't here to see me get the mental health award,'' she said. ''Thank you!''

Barbara Cook lives in Manhattan, in an apartment on Riverside Drive with views of the river and the park. The living room is packed with paintings, pottery and sculpture, including a woven wood Frank Gehry chair, and the dining room has red walls and bursting bookshelves and a long table at which Cook often serves dinner for 10 or 12. The place has a warm, cheerful feel.

When I visited on a winter afternoon, Cook was dressed in black, as usual. As she sat down on the couch to talk about her life, she spoke with the same candor she brings to her music. One strength of her singing is the ease with which she accepts imperfection -- a break in the voice, say -- and uses it to the song's benefit. As she has in her life, she has learned not only to embrace a weakness but also to celebrate it.

She was born in Atlanta in 1927, the older of two girls. Her father was a traveling hat salesman, her mother an operator for Southern Bell. When Cook was 3, she contracted whooping cough; her 18-month-old sister, Patricia, had pneumonia, caught the whooping cough, too, and died.

''Interestingly enough, until I first went to therapy, I always used to say I gave her whooping cough,'' Cook said. ''Not 'She caught it' but 'I gave it to her.' You know, we didn't have antibiotics in those days. And my sister didn't even die in the hospital; she died at home. So you can't say, 'If the doctor had done this, if the nurse had done that.' It's your responsibility.
''But what I took away from it was the idea that I had killed my sister. After that, my parents split. And my mother was saying, 'If your sister hadn't died, your father wouldn't have left.' And since I killed my sister, that was my fault, too. Whenever I would see him, my mother would have me beg him to come back. And of course, I failed at that.''
Cook says her mother never pushed her to perform, though as a child she sang at the Elks Club, the U.S.O. and on the phone to her father, when he called from the road. In 1945, she graduated from Girls High in Atlanta, where she remembers the other kids making fun of her because she wore the same clothes to school all the time and didn't have the money to join a sorority. She worked for three years as a typist before moving to New York City.
Actually, her mother thought they were going for a visit. ''I started packing everything I owned,'' Cook recalled. ''I said, 'I'm going to stay and see what I can do with my singing.' I think she didn't really believe me. We stayed two weeks. And I was standing on the platform when the train pulled out, she was on the way home and now as an older person, as a mother, I can see that she must have been devastated. Because we were so close, too close. I slept with my mother until I came to New York. Slept in the same bed with her. That's just, it's wrong. But to me, it was the norm. Don't forget, she lost a child. I was it. As far as she was concerned, we were one person. There was no separation, no boundaries. She owned me. And thank God, I am a really strong person, or I just might not have survived that.''
In New York, Cook worked as a typist and started to audition. She spent the summer of 1950 at Tamiment, the legendary Poconos hotel. ''It was Sid Caesar, Danny Kaye, Jerry Robbins and Herbert Ross,'' she said. ''I was the ingenue, and Jack Cassidy was the juvenile, and by that time he had already done so many Broadway shows. I was terrified. But it was a wonderful time for me. I learned so much. And I got a lot of confidence because people said, 'You really sing well, you've got a real shot at this.'''
She made her Broadway debut in 1951 in the flop musical ''Flahooley'' and returned to Tamiment that summer, where she met David LeGrant, a comedian who later became an acting teacher and her husband.
Cook worked throughout the 50's and into the mid-60's, starring on Broadway in ''Candide'' and ''She Loves Me'' and in City Center revivals of ''Carousel'' and ''The King and I.'' Her son, Adam, was born in 1959, and when he was nearly 6, Cook and LeGrant divorced. Over the next eight years, she worked less and drank more.

''The depression that comes with it creeps up on you so slowly you don't know when it started,'' she said. ''The psychotherapeutic community didn't help very much in the sense that several doctors allowed me to continue far too long, thinking I had some neurotic problem rather than looking at the damn drinking. Because it's so common that you think: Oh, I drink because I have problems. And if I fix the problems, I won't need to drink. But what happens, of course, is the drinking becomes the problem, and you can't fix anything until you stop drinking.

''I don't know exactly when it became more difficult to be a good mother,'' she went on. ''But Adam went to live with his father when he was 14. I was really in bad shape. I would get up to get him off to school and go back to bed and sleep till he was about to come home. I'd set the clock and try to be dressed, kind of together when he came home from school. The house was a wreck, terrible. I was not some lady drunk. I was a real nonfunctioning alcoholic. Dishes, always in the sink. The kitchen a mess. The bathroom a mess. Everything a mess.''

Finally, in the summer of 1973, she pulled it together enough to go on the road with Harold Lang, Helen Gallagher and Nancy Dussault in a series of concerts called ''The Gershwin Years.'' Harper, who knew Dussault, saw the show a few times, and the following year he and Cook joined forces. ''It was just an amazing coming together,'' she told me. ''Our musical sensibilities were so much the same.''

Unlike Cook, Harper, who was raised in Ohio, received a formal musical education, at both the New England Conservatory and Juilliard. Cook and Harper played at a club called Brothers and Sisters, on Restaurant Row in Midtown, where Herbert Breslin, Luciano Pavarotti's manager, heard them and booked them into Carnegie Hall in 1975. He produced the concert, which was a sensation, and got them their first contract with CBS Records. But they broke with Breslin a year later. ''He was from the classical world, and we were from show biz and wanted to stay in show biz,'' Cook said. ''I just felt it was oil and water.''

Although Cook experimented with a repertory that included contemporary pop, she and Harper eventually settled on the musical theater and American standards. ''I think I know how to act theater songs as well as anybody's ever done it,'' Cook said, ''and that's something I didn't understand in the beginning. It's hard to judge your own work.''

What she loved was working with Harper. ''What we put together is very, very detailed,'' she said. ''It came out of long conversations about 'What do you think these words mean? How do we move into that phrase?' He could spend a half-hour or more trying to figure out a key change. There were songs occasionally that we felt we didn't have quite right, and we'd keep working on them for maybe, oh, a month or so. You can't tell somebody about all of that. They had to be there.''

She knitted her fingers together, and her eyes filled. ''You know, I was so angry with him so much of the time the last few years that I forgot how much I loved him.'' She wiped her eyes. ''He could be so much fun. That's where the party was. But in the later years, he was very hard to be around. You didn't know which Wally you were going to get. He would lash out at me, and I began to pull away from him socially. Then it became more and more difficult to work with him. I thought many times about severing the relationship, but I couldn't face the idea of what it would be like without him, and I was right, I think, to not sever it, because being without him now is just hell. I didn't realize how much I depended on him.''

She looked out the window, seeming to struggle over what she should say, or shouldn't. ''His work got very unpredictable,'' she said. ''During one show, there were wrong notes, wrong chords, the tempos were off. For me it was musical chaos.'' She began to cry again. ''He was never willing to go into rehab, which is no guarantee, but it's a step you can take to try to help yourself. His life was very compartmentalized. I knew him as well or better than anybody, but there were still things he would keep from me. He was a tortured guy, and I'll never know the reason. He had a really good relationship with his family. I knew them, they were delightful people. He was a very sensitive, fragile person, and I think many of his friends would not understand that remark. He could give off a great feeling of strength, and he knew how to solve things. But he had an explosive temper. When I first met him, he was biting his fingernails, and I tapped his hand and said, 'Don't do that.' And he said: 'Get away from me. Don't tell me what to do.' That was a side I hadn't seen, and I learned pretty early you don't go there, period.''

Hugh Fordin, the president of DRG Records, produced the last eight albums Cook and Harper made together; he first worked with Harper in the early 1980's, when he recorded the score of the Broadway show ''A Day in Hollywood/A Night in the Ukraine,'' for which Harper was the musical director.

''I think Wally was tortured because he never became a successful composer,'' Fordin said when I phoned him. ''He was never able to keep a collaborator, and that was his loss. But being a composer helped give him, as an arranger, an emotional sense of what a song was about and how Barbara could further it. And he wasn't just an accompanist. He could take a chorus by himself and make the piano sound like a whole orchestra, do all kinds of emotional shadings. It was almost like being a painter who hears it and plays it instead of paints it.''

Like Cook, Fordin said he felt conflicted about Harper's drinking. ''There's a thin line between genius and madness,'' he said. ''He turned up once out-of-control drunk, but I forgave him. I didn't want to. But we went on to record another album together. He just had what nobody else had.''

Which made accepting his demons all the more difficult for Cook. ''What I've come to realize,'' she said the afternoon I visited her at home, ''is that my husband and Wally played similar roles in my life. They were the people who were going to keep me safe and take care of me. And I've come to realize that I was much stronger than either of them. It took me a long time to understand that.''

When Cook stopped drinking in 1977, she says, her depression subsided as well. She could not, however, conquer her problems with weight. ''You know, I would love to be thinner,'' she said. ''I am not one of those people who say, 'Oh, it's all wonderful, and the fatter I get, the better.' I lost about 50 pounds a couple of years ago, and I'm pleased that I've kept about 35 of it off.''

She recalled an article The New York Times ran in the mid-70's to mark her re-emergence on the scene in which a photograph of her ''old'' self was juxtaposed with one of her ''new,'' significantly heavier self. She waved her hand dismissively. ''I decided that I had to try to be comfortable with my body as it was because otherwise you just live in a closet, you don't go out,'' she said. ''When I did the Gershwin thing, I think I weighed about 160, something like that, and I was so upset because I'd never performed at that weight. My son was, I guess, 12 or 13. And I couldn't find any clothes to rehearse in. He came to me and said, 'Mom, we'll go out this afternoon, and I know we can find some clothes you can wear.' Then he said, 'Besides, when you sing, you'll be beautiful.' I'll never forget that.'' Her smile was warm. ''So I got a good boy. Really sweet.'' (Adam LeGrant, now 45, lives in Los Angeles and is an aspiring actor. He and his mother have stayed close in his adult years; he was her date at the Grammys.)

The weight gain succeeded in stalling Cook's career, a realization that still stings. ''I wish I had had a really good manager then who said: 'You know, now is the time to build a national profile. Do television more, try harder to be in a film and give yourself some kind of national exposure.' I'm sorry now that I didn't do that, because it gives you more opportunities when you're older. I was watching a Debbie Reynolds film a few years back and, thinking, God, isn't she lucky to have all that delightful stuff on film where we can still see how adorable she was and good she was?''

She sighed. ''I guess if I had done something about my neck and a little bit of this or that,'' she said, meaning plastic surgery, ''it wouldn't have hurt. I certainly would like to have a better neckline, but it's also about keeping an honest approach to my work. Lipo might help, but I don't think I want any of that happening near my larynx. It scares me. I'm just so happy that people seem to accept who I am. They don't come back after a show and say, 'Oh, you're so fat.' They say: 'Oh, you're so moving. You made me cry.'

''And in the last five or six years my work has become deeper because I was willing to go deeper,'' she went on. ''I'm the slowest bloomer, the latest bloomer ever. I think -- barring any kind of big health problems -- I'll sing better five years from now, because I expect I'll have more courage to be even more open. Because I believe that's the kind of the road I'm on. I consider myself a work in progress. This is not the done deal.''

The one thing Cook will not talk about is a lost love from years ago, a married man who did not leave his wife. She doesn't have to discuss it really; see her onstage and moments arise -- her fine acting aside -- when the pain on her face seems all too real.

''Certainly there was somebody I wanted to be with, and his decision to not be with me was exactly the proper one,'' she said. ''The way I was trained as an actress is to use emotional memory. I think that's one reason why I find it extremely difficult to throw out any kind of photograph, because my work feeds on the past. That's how the work becomes specific, which is what I think it's all about. There are singers whose singing I admire, but they don't move me unless they let me in.

''That's what I try to teach kids. To accept who they are and to use their memories and experiences as much as they can, instead of 'I ought to sound like Barbra Streisand or Judy Garland.' When I sing, I try to keep it like just a couple of people in my living room and I'm talking to them. That's why I like to have light in the audience so I can relate to people. I don't mean I have to look in their eyes specifically, but I see a shape. It makes me less afraid. And I'm trying to not do tricks, to do the work again every time instead of phoning it in. It's me trying to be comfortable and make the place mine, just my house. And I work the people into my house and my world.''

On the afternoon of the Sarasota performance, Cook rehearsed with Harris and Donovan at the Ritz Carlton Hotel, where they were staying, before going on to Van Wezel Hall. Kravat had arranged the use of a piano in a ballroom that had just emptied after a corporate lunch.


For show people, 2 p.m. might as well be 9 a.m., and though the tension was already running high, the energy was still low. Cook, dressed in black, hid behind the piano, clutching a bottle of water, worrying out loud about how she would be called onstage to accept her award.
Kravat knew enough to keep his distance and quickly found a project to his liking; the brunch tables had not been cleared, and he busied himself collecting pencils. ''It's hard to find good pencils these days,'' he said to no one in particular.

Although there was no bass, Donovan sat near Harris. ''Let's just hit it,'' Cook said, starting her opening number, ''It's Not Where You Start, It's Where You Finish.''

As she sang, the hotel staff cleared the room. Chafing dishes clanged and tables rolled. In their corner, Cook faced Harris, trying to block the distraction.
''Can we make that more of a cutoff?'' she asked. He seemed unsure. ''O.K.,'' he said. ''But I listened to the CD, and it wasn't.'' Donovan jumped in. ''You're right, it just evolved that way.'' Harris made a note, and Cook started again. At this time of day everything sounded too high for her.

''That's just terrific, Jeff,'' she said at the song's end. ''Real good tempos, everything.''

On the second song, ''Among My Yesterdays,'' she stopped him again. ''It's a hair slow,'' she said. ''I'm really splitting hairs. I could live with that.'' They tried it again. ''Again, it's just a hair,'' she said. ''Is it driving you crazy yet?''

''No, not yet,'' Harris said gamely. They did it again. ''Terrific,'' Cook said.

They moved on to ''In Buddy's Eyes,'' from ''Follies.'' A waitress clattered a pile of plates just feet from the piano, and Cook forgot her words. ''Let's do the whole thing again, O.K.?'' she said.

They did, and she found the music ''a hair fast,'' though again she ''could live with it,'' which Harris understood meant changing it immediately. He made more notes, and as the commotion in the room kept on, Cook grabbed a chair, sat down on it, placed her hands on her knees and closed her eyes. This is something she often has her students do, to tune out the ''shoulds'' of their music and really listen to what it is they are trying to say.

The next song was the melancholy paean to lost love, ''This Nearly Was Mine,'' from ''South Pacific.'' Cook started softly: ''One dream in my heart/One love to be living for.'' The longing built in her voice, and the voice itself grew stronger, not louder. ''Now, now I'm alone/Still dreaming of paradise/Still saying that paradise/Once nearly was mine.''

The yearning became even more pronounced and the voice swelled and both musicians thrilled to it as if to an electric current, riveted, and Kravat clutched his pencils, still as a statue. It was a moment so naked, so intimate and transporting that it was suddenly hard to remember where the ballroom was or why any of us were in it. There was just the ache and the soar of that voice and then, rapture.

It would be nice to report that silence ensued. That the wait staff also saw God. But the plates kept clanking and the tables kept rolling. Kravat called, ''Barbara, I don't want to rush you, but they're holding Feinstein there for you.''

Cook opened her eyes, and her face was suffused with calm. Her breathing had changed, and when she stood, she seemed taller. She was completely at ease. Completely at home. But she wasn't finished. ''Just one more,'' she said. And turned back, to the piano.