Let's start at the very beginning [sort of!]
Welcome!
You have landed at the blog site for my big trip, time to brace for some verbosity. I really don't know what will go in here yet. A travelogue of some sort is inevitable but I'm not sure what kind yet. Anyone familiar with my previous bursts of blogging will be aware that I can take unexpected turns.
My neurosis combined with having too much time on my hands have combined to make for an absurdly obsessive preparation period. I'm down to the very last few things to do now. As I write this I should really be out collecting my ticket but 'attend to blog' has been on my crazy 'to do' list for at least a week. I don't think I'm taking much but I'll probably fill a suitcase anyway. Just the books that I absolutely must have are a significant pile. They're a combination of travel-guides and essential literary works composed at places I'll be. It says a lot about me that I've piled for packing Isherwood's Berlin Books and Dee Dee Ramone's Chelsea Horror Hotel. It has turned out that my new laptop, which I adore with all the vigour that boys can invest in their toys, will be integral. I can pretty much run my life from it. Passport, laptop, medications, itinerary, change of underwear, Tim Tams to appease the natives and I'm really OK from there.
Spooky Book Pile!
The lead in to this is probably to say that I never planned a 'round the world' ticket. This adventure began at the very simple point of principle that I refuse to board a Qantas flight because they treat their customers abysmally. They totally take their market monopoly for granted. Sadly, it's nearly impossible to fly from here to LA any way other than Qantas. Market dominance. Flights into NY are non-existent. It is always a case of disembarking at LAX and shifting to American for the LA-NY leg.
A remarkably patient travel agent solved it for me, the answer was in an around the world ticket that worked out to be cheaper than doing the Qantas market exploitation double-hop to NY. She managed to meet my second, very difficult request. I asked to avoid entering via LAX because the place gives me the heebies. That also was solved. United fly Sydney-San Fran a few times a week. Perfect for me- SanFran I want to see. LA scares me.
By avoiding Qantas I effectively got all the other stops that you will see listed below free. The 'around the world' ticket, with accommodation for the German and Thai legs, was slightly more than the Qantas hop to NY and back. Sometimes being a demanding customer pays off. Qantas have consistently disappointed and I don't want them having my money.
The itinerary that my loathing of Qantas and dread of LAX has generated is fascinating. I doubt that I could have put it together myself and what he have here emerges from a degree of randomness. I certainly had no intention of stopping in Europe, the budget doesn't even start to meet the costs involved in doing Europe well. I've created a little mental zone where I'm not really going to Europe- just to Germany. On a very deep level I have felt Berlin to be in my destiny for many years now. Who am I to defy fate when it presents so obviously?
The question before us: can such a tour be sustained by a grumpy old man like myself. Only the Fickle Finger of Fate knows…
The Itinerary
*30 April Syd-San Fran

5 nights at the unnecessarily glamorous looking Hotel Monaco with a ticket to see Lennon- a New Musical in his own Write.

As unfashionable as the greatest hits musicals are, I'm looking forward to this one quite a bit. It's Yoko approved so it has to be good is my theory!

I don't really know what else I'll do in SF yet. Drift a little I hope, lose some of the tension currently eating me alive. Tourist clichés and see if I can find my way underground in five nights with very few clues.

*3 May SF-NYC

And move into the Chelsea for slightly over a month. I do know what I'm doing in New York. Way too much theatre- and I still haven't covered everything I'd ideally like to. THAT is a big city. URLs for shows are generally in the links list on the sidebar.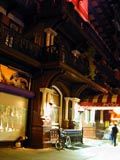 Hotel Chelsea: a destination

Schedule of shows goes:

May 6 Tosca @ the Met. The notorious Zeffirelli production. Fifth row seats. How could I resist?
May7 Who's Afraid of Virginia Woolf starring Kathleen 'Serial Mom' Turner. A special excitement ticket, I'm particularly fond of Ms Turner.
May 10 Sweet Charity And didn't they put me through hell with the fake cancellation? This is the one I'm all gleefully excited, big girlie squeal about.
May11 Streetcar. Two Williams plays! How lucky am I? Had to make it a double feature.
May12 Glass Menagerie. Dusting Jessica Lange off for this one is a bonus.
May14 AveQ. Loved this last time, need to check in again. Lucy T Slut is too ravishable for words.

May 16 Forbidden Broadway: SVU. Final days of the famous review at it's original home before the Douglas Fairbanks is demolished.

May 17 Wicked No good deed goes unpunished All helpful urges should be circumvented. The musical that restores hope for the future of the book-musical.

May 19 C2B2 [i.e. Chitty....]
May 20 The Musical of Musicals, The Musical.Oh, what beautiful corn!
May 21 La Cage aux Folles
May 25 Spamalot [matinee] Kind of an extra booking. Too complex to warrant explaining!
May 25 Barbara Cook @ Cafe Carlyle. No words for it... Cook at Carlyle! Extra medication will be on hand.
May 26 Chicago
May 27 Altar Boyz
May 28 Doubt. Pulitzer prize for drama. Best bet [this week] for Best New Play at the Tonys. Excited about this one.
May 31 Glengarry, Glenn Ross
June 2 The Producers. Opens in Sydney while I'm away so I can do a compare and contrast.
June 3 Spamalot [pre Tonys hysteria edition]
June 5 Tonys Ceremony. Because I will secure a ticket.
June 9 South Pacific. Concert presentation @ Carnegie Hall. Bliss! South Pacific is one of my most loved and treasured scores. A-grade cheese, a delicacy sometimes wasted.
The big ticket hasn't been purchased yet, only because it hasn't been released.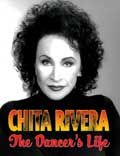 Chita Rivera- an Issue
The x marks the spot attraction of this trip is the chance too see Chita Rivera. I've left myself time to catch her before I leave US but my nerves are catching up with me. An LA season has been cancelled. There are inconsistent stories as to when Ms Rivera may choose to open.
I sense that I might miss this, the windows are closing as I book more 'essential' stuff in NY. I might end up flying to Denver on Friday, see Chita, fly 3am Sat morn back to JFK and then wait for a 4pm flight to Frankfurt.
Nothing is impossible for Chita.
*June 11 NYC-Frankfurt & Berlin

I have a Hotel in Frankfurt for one night to get myself a little bit together after changing continents. No idea what it is ATM- just that it's directly opposite the train to Berlin! From there I make my own way up to Berlin BY TRAIN AS ONE MUST for five nights. I got a fascinating Hotel- right near the Brandenburg gate. It's an old Modernist building converted into a hotel showcasing German modernist art. Berlin is full of little art boutique hotels and astoundingly affordable. I will post URLs when I have my ticket with all the details on it.

The agents couldn't understand me insisting on changing for a train. They could have had me change flights and in Berlin at no extra cost in two hours. I didn't want to explain it, it's my issue not theirs! How could I not arrive and depart Berlin by train? Maybe even employ a prostitute to be Sally Bowles and wave a tragic, doomed farewell. :-)

In Berlin I do Berlin things. Art and history mostly.


*Sat18/Sun 19
Frankfurt-Bangkok
Three nights in Bangkok at a mind-bogglingly Bangkokish looking place, Hotel Asia. I chose it because the staff recommended it and because it's got the Skyway thing for tourists coming through it. Even I couldn't get lost.
*Wed 22 Bangkok-Chiang Mai.
Decided to go to Chiang Mai as well because it's so cheap, the flight adds in with my ticket, and it comes very recommended by my catsitter. The thinking going on here is that I can have a few more nights in either city if I like it. No idea what Hotel again- I'll have that all printed out to pick up tomorrow. All I recall is that it was directly above the famous Chiang Mai night market.

*Sat 25/Sun 26 Chiang Mai - Bangkok - Sydney.